Product Description
High Quality Cuticle Pusher
Stainless Steel Dual Ended Nail Tool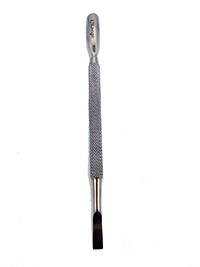 Brand new and genuine cuticle pusherProfessional Cuticle Pusher Dual Nail Tool

 100% high quality surgical grade stainless steel.

  used with artificial nails as well as natural nails.

 A useful tool with dual ended usage.

Spoon-like end for pushing nail cuticles and the straight end for scraping left over skin, cleaning nail cuticles or removing glue when using acrylic nails.

 used to remove soak off gel nails also.

 
Postage – Important Information (First Class Post) 
Please be aware that the timescales given  for when you may expect to receive your item are estimates only and are not guaranteed.  We dispatch our orders within 1 working day for first class post but occasionally some items are delayed in the post and arrive after the estimate given
.
If you have any issues or problems please do not leave negative feedback, contact us/message us straight away and we will do everything we can to resolve it, thank-you
Similar products
https://www.ejrange.com/product/cuticle-nippers-rainbow-effect/
Our Amazon Store
https://www.amazon.co.uk/stores/page/5161CC7A-132F-4FEC-AF1B-3DBEFB9139C3?channel=ejrange.com
Also Ebay Store
https://www.ebay.co.uk/str/ejrange
There are no reviews yet.